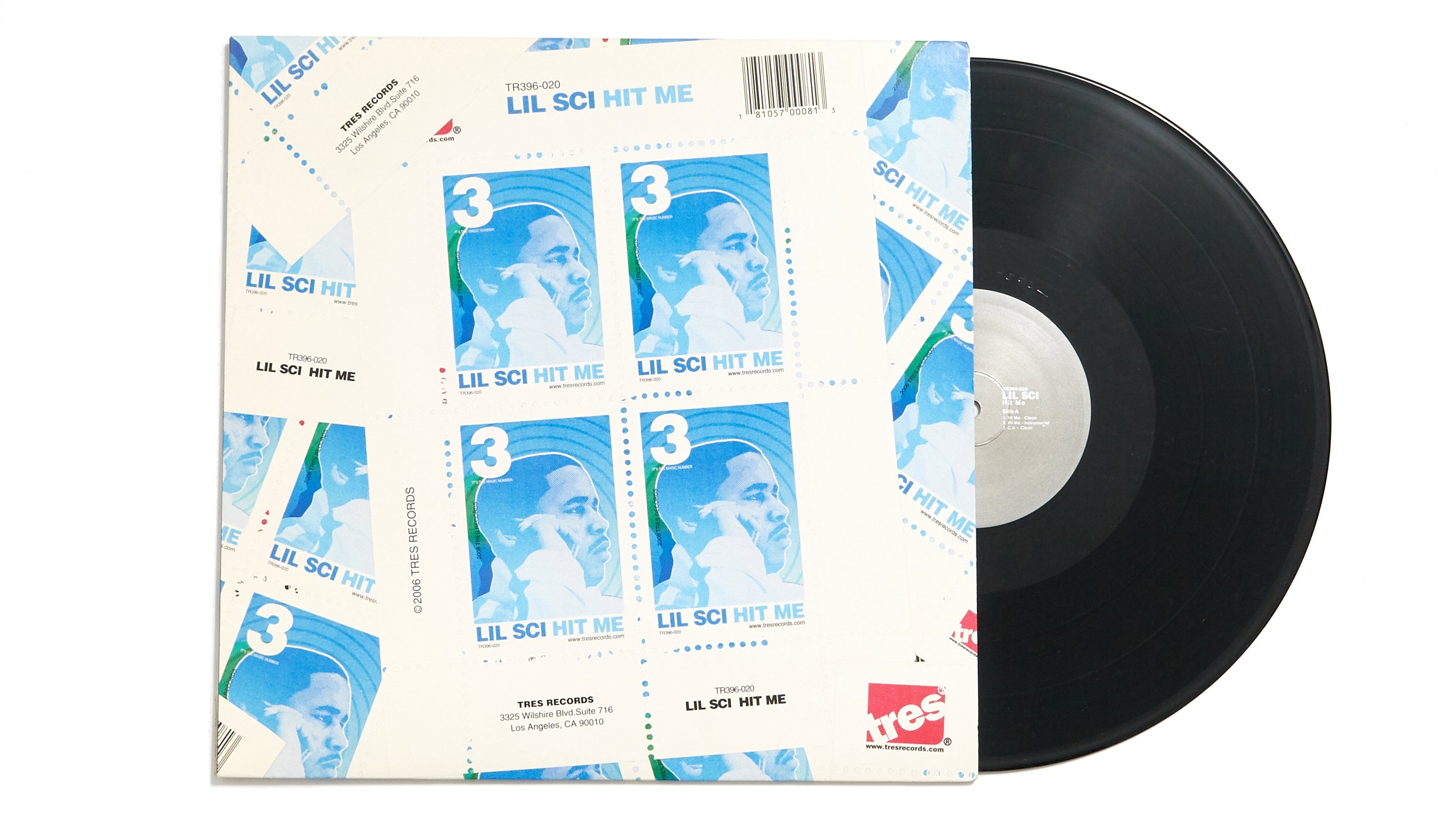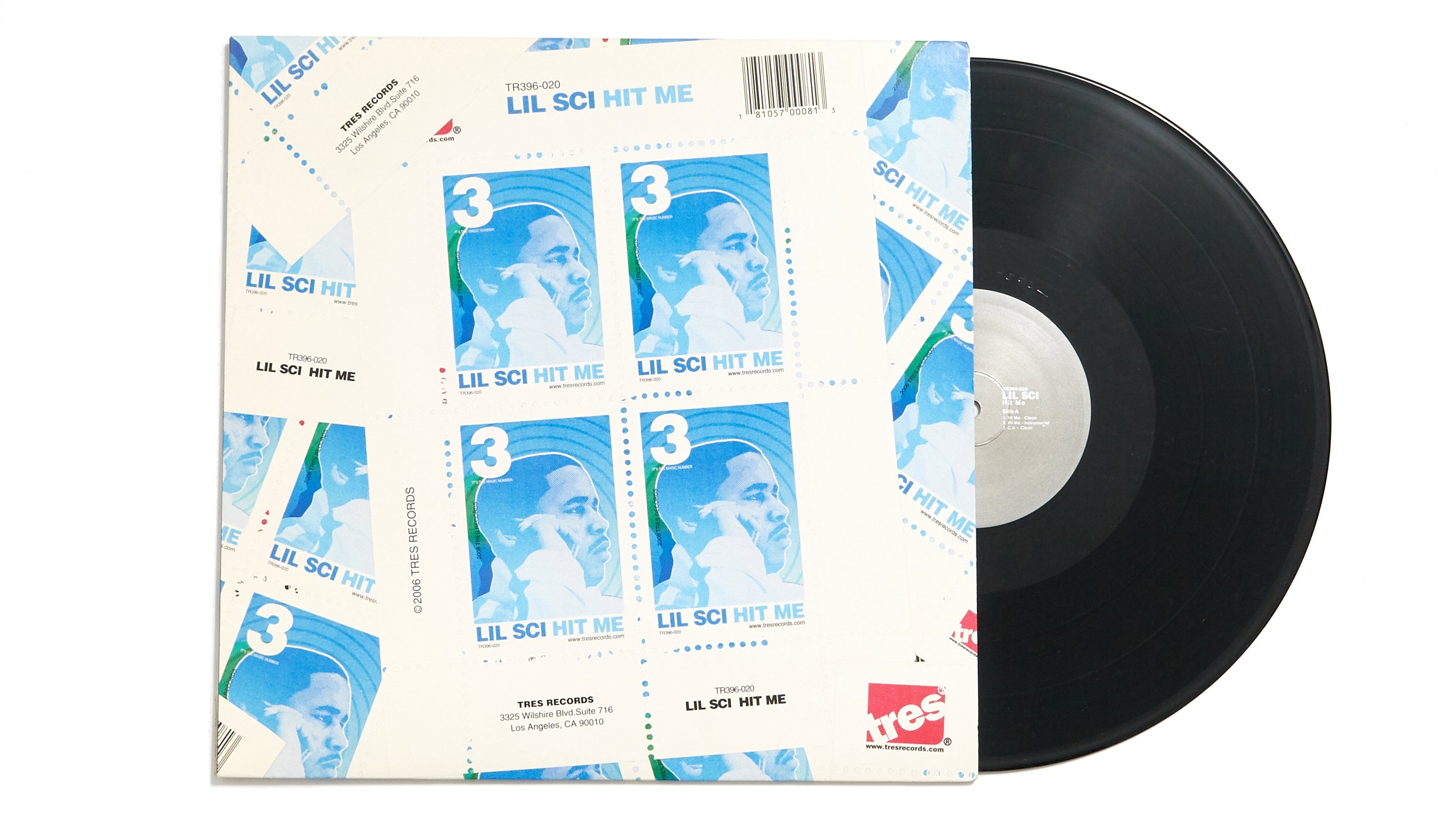 Lil Sci "Hit Me" (12")
In the thankless world of independent hip-hop, Lil Sci (aka John Robinson) is one of the few artists who has been able to continue to put out praise worthy music.  From his first record with his group Science of Life (put out by Bobbito's famed Fondle Em label), to his releases with the talented Stacy Epps (Sol Uprising), and to the present with his collaboration with MF DOOM (the John Robinson Project) about to drop, Sci has earned his reputation as a consistently dope MC.  While Sci has made much noise in his home state of New York and his second home of Atlanta, it was during his time in L.A. that led him and his occasional collaborator, Detroit's own Ta'Raach, to record the tracks that are on this record: "Hit Me" and "C.U.".
The A-Side, "Hit Me" comes bouncing in with a warm bass line and a busy guitar line before the drums shuffle in to create the pace for Sci's rhymes about his constant hustle.  The "MC/Entrepreneur" (Sci is the president of Atlanta based label Shaman Works) weaves his lyrics about the nature of being a rapper and businessman perfectly over Ta'Raach's whimsical yet bounding beat that will leave your feet tapping and your hands scrambling for your cell-phone.  On the flip, "C.U.", Ta'Raach keeps the head-nod factor at 10 with swaggering drums and a lovely vocal sample that builds the bases for the chorus. The "Lovelution" is in full effect on this sublime beat. Following the cue of the vocal sample, Sci raps about the things he sees, wants to see, and hopes that all else will see.  To round out the 12", Starving Artist Crew beat smith (and fellow Detroit native) SP flips the mood of "Hit Me" to a darker mode with a looping Rhodes and bass line to create the "Phone Home Mix". With vintage phone rings and warm sax line, SP gives the song a whole new feel, but one that fits Sci vision and completes the 12".
With Sci's legacy intact and growing everyday, Tres Records is thankful to be one of the labels that are part of his storied journey.  Of course having Ta'Raach on the beat for another Tres release (TR396-013 "Yeah" b/w "Heaven" being his first) is another cause for celebration.  Both of these songs, plus the SP remix, will be featured on the new Tres compilation of vinyl-only tracks coming out on CD this fall.
(Taken from one sheet)
Artist: Lil Sci
Title: Hit Me
Cat#: TR396-020
Format: 12" Vinyl
Condition: New
Track List
Side A
1. Hit Me - Clean
2. Hit Me - Instrumental
3. C.U. – Clean

Side B
1. Hit Me (SP's Phone Home Remix) - Clean
2. Hit Me (SP's Phone Home Remix) - Instrumental
3. C.U. - Instrumental