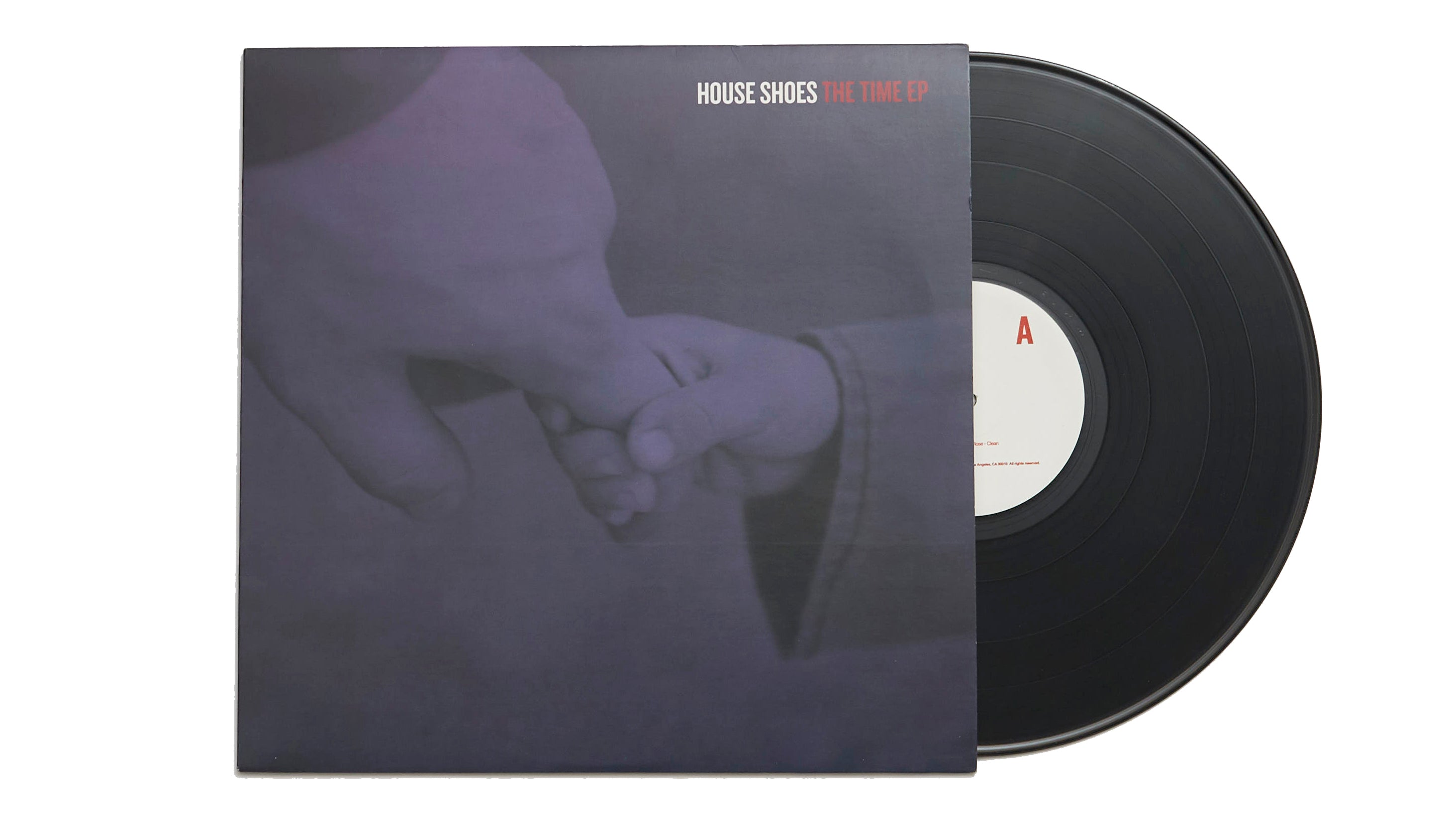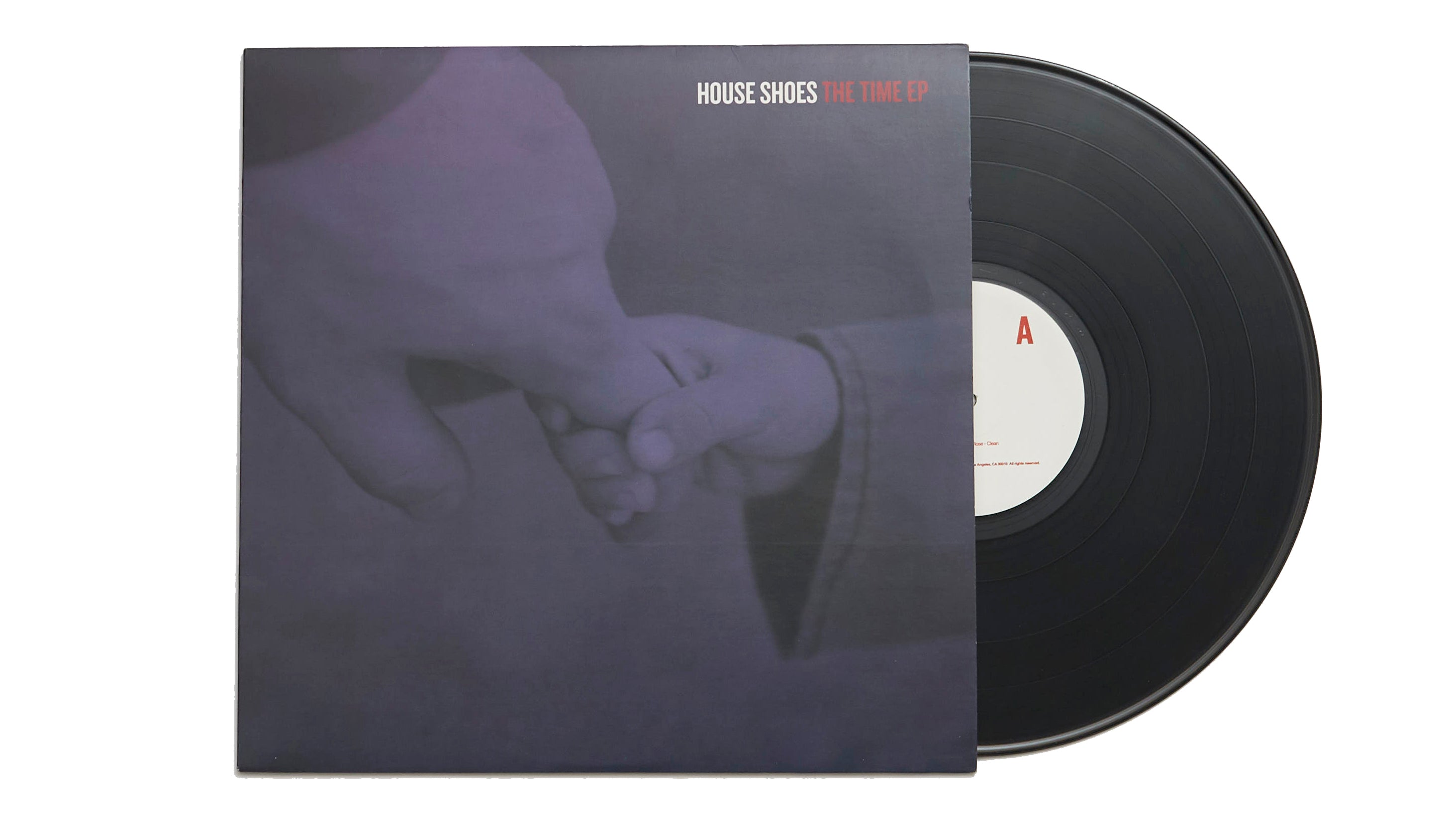 House Shoes "The Time EP" (12")
House Shoes' lead-off release The Time EP is a precursor to his forthcoming full-length debut album Let It Go. It features original production by Shoes with features by Detroit Emcees Big Tone and Danny Brown, as well as Los Angeles songbird Jimetta Rose.
"Better later than never," some might say, about these releases from House Shoes. He has been an integral piece of the landscape of Detroit hip-hop for the better part of 20 years. He's produced, DJed, and dot-connected for a generation of Detroit artists who have taken the sounds of their city on world tour. From his work alongside J Dilla and Big Proof, to Black Milk, Guilty Simpson, Phat Kat, and Danny Brown – he has helped to shepherd Detroit's hip-hop into prominence. His solo endeavors are long overdue, and much awaited.
You can't rush creation, though – and no matter how late fans might feel it is, House Shoes, The Time EP, and the following Let It Go LP, are arriving like they had an appointment.
"The past no longer exists, and the future is yet to happen / the present time is only as long as the moment that I'm in it; I'm feelin' every millisecond passin'." From the needle-drop, the filthy-neck-snapping drums under chopped synths on 'Time' featuring Big Tone sets the stage for a showcase of Tone's humble bravado. He raps about the need to have 'right now' in order, and how he keeps his watches in sync.
'Sweet' featuring Danny Brown, the second offering of the EP, lays an understated and confident hi-hat over layers of bass guitar riffs and strings stabs that might actually inflict bodily harm. Danny spits with his patented lack-toothed style and a considerably rougher hand than the preceding Emcee. As is usually the case with Brown, it works as designed, with witty chest-puffed punch lines like "you study what I author / your arms too short – my reach like Tarver…" and plus he's "got butta like George Washington Carver." Bravo.
The third plate in his Chef's tasting menu, 'Castles (tHE SKY IS OURS)' featuring Jimetta Rose, sounds like it is playing through different speakers than the first two courses – the song feels like it's coming from the clouds. Created in tribute to the late Jovan 'J1' Coleman (Drummer for Dam-Funk / Mazter Blazter, producer, and a friend to Shoes and Rose) – Jimetta sings for all of the people who carried us in the past; the people who we carry on for now. The song closes with an audio clip from an interview with J1 before his passing.
The 12" release also includes two exclusive instrumentals titled 'Suspended' and 'No More Mr. Nice Guy' that are not available on the full-length Let It Go release later this year.
TRES Records will release The Time EP on May 22nd, available digitally and on limited-edition 12" vinyl. It primes the palate well for his full-length debut in the coming months.

(Taken from one sheet)


Artist: House Shoes
Title: The Time EP
Cat#: tr396-083
UPC#: 181057000646
Format: 12" vinyl
Condition: New
Track List
Side A
Time feat. Big Tone - Clean

Time - Instrumental

Castles (tHE SKY IS OURS) feat. Jimetta Rose - Clean

Suspended
Side B
Sweet feat. Danny Brown - Dirty

Sweet feat. Danny Brown - Clean

Sweet - Instrumental

No More Mr. Nice Guy