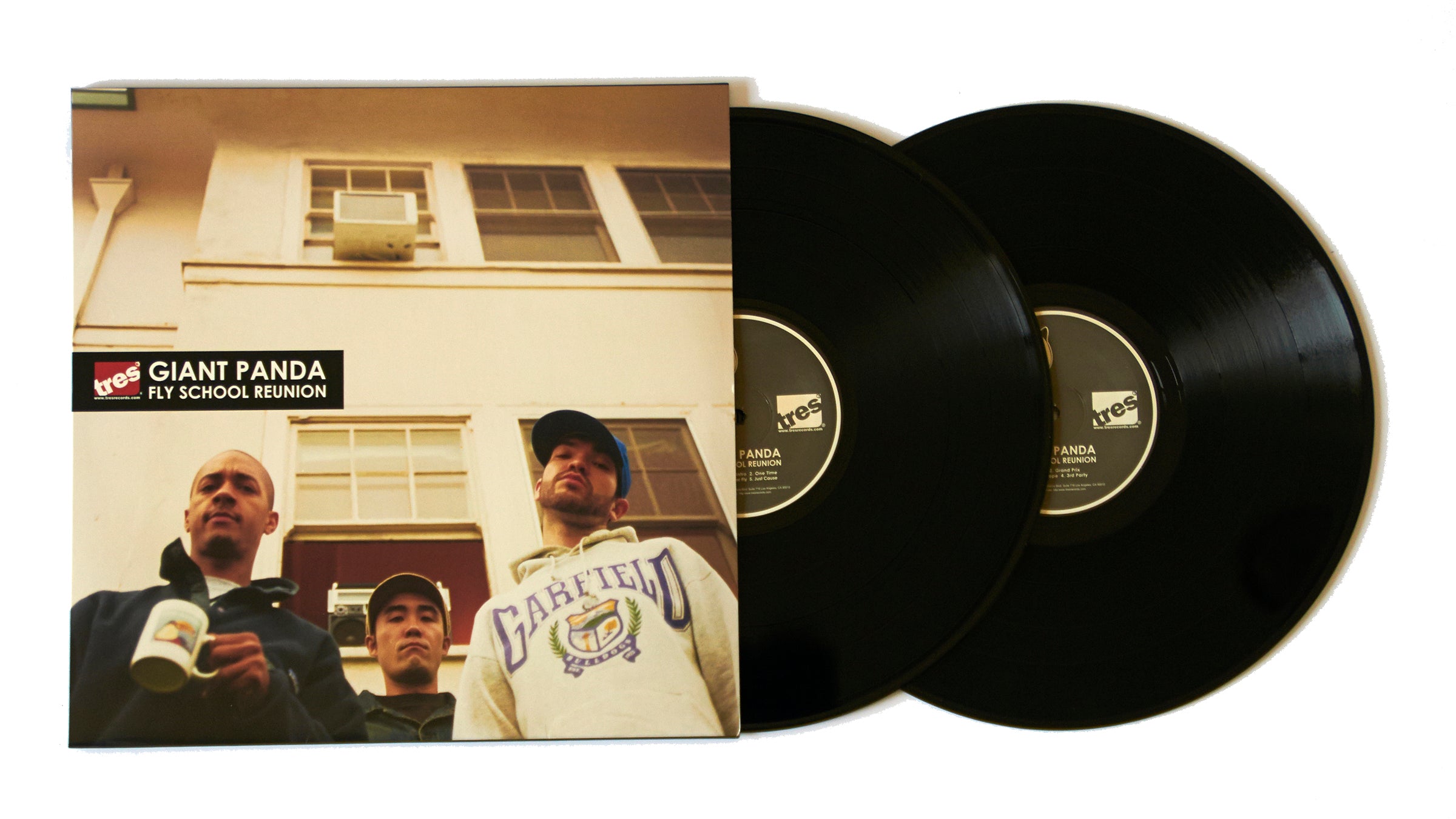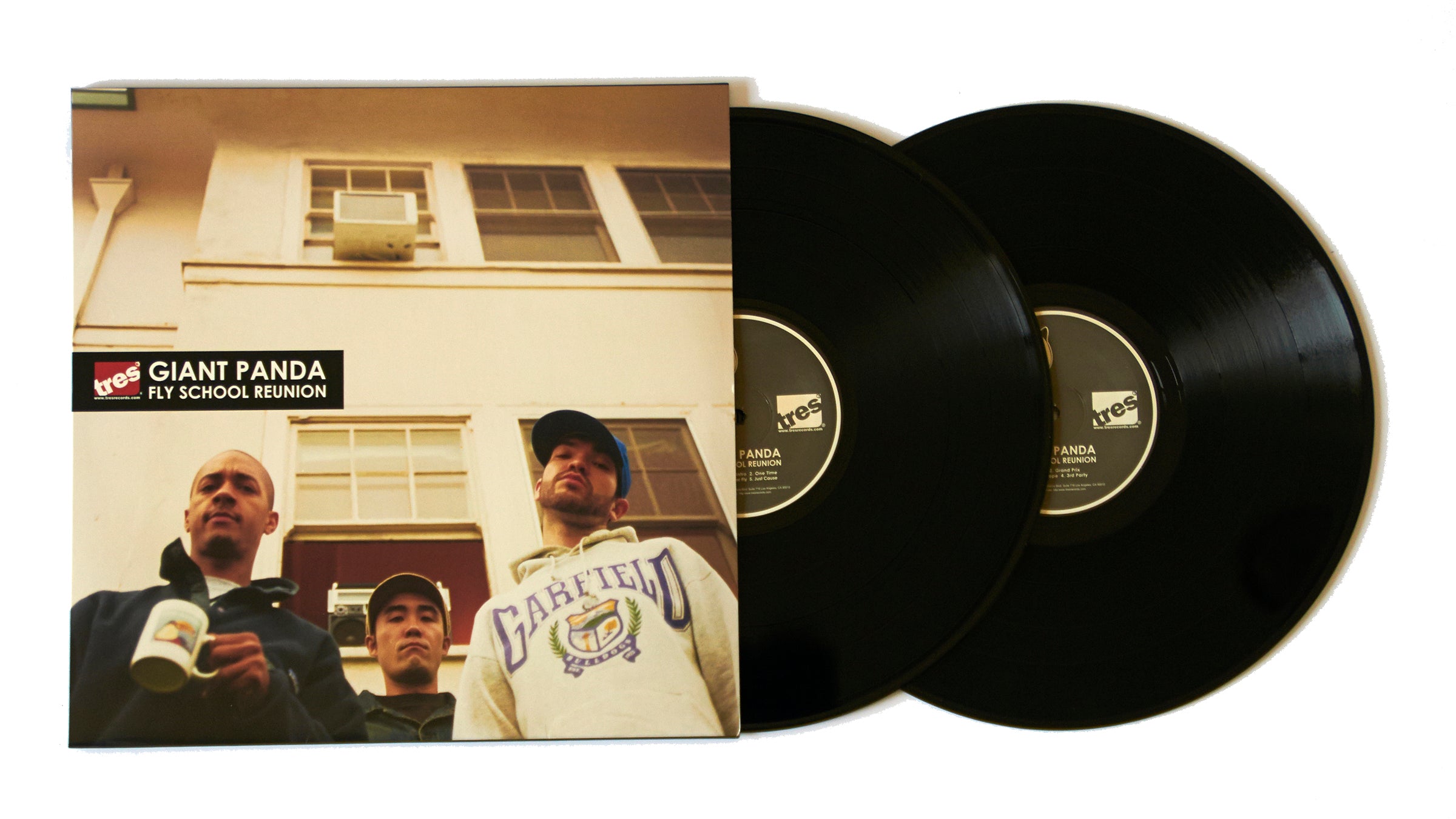 Giant Panda "Fly School Reunion" (LP)
Tres Records is proud to present the debut album from Giant Panda, "Fly School Reunion".  Giant Panda is a group composed of the ethnically diverse Chikaramanga, Maanumental, and Newman with DJ Superbrush 427 and Sir Kado. After the success of GP's independently released 88 Remix (Ukenjam 12" 2003) as well as their critically acclaimed Tres debut, With It (Tres 12" 2004), the time has finally come for the multi-cultural crew to show their full colors to the listening public.

Though "Fly School Reunion" might be perceived as a throw back to a simpler, and arguably better time in Hip-Hop, it is more than just a practice in old themes and techniques. "Fly School Reunion" is Giant Panda's celebration of what made those times special and what they feel needs to be reclaimed in order to advance the art form they practice and love.

With production by Giant Panda's Chikaramanga, Newman, and Sir Kado, as well as outside help from the up and coming Ben Gebhardt and the legendary Thes One of People Under the Stairs (who mixed the entire album in his analog studio), "Fly School Reunion" is guaranteed to please the B-Boy preservationist and the forward thinking listener.  The Thes One produced lead single, Superfly, exemplifies Giant Panda's ability to balance the past and the future through music and rhymes.  With Diggin In The Tapes, Racist, Classic Rock, and the tribute to their favorite era (and favorite group), 90's, GP exhibits the sophistication of diligent students ready to evolve their medium while maintaining a healthy sense of humor

Already gaining worldwide recognition from their past releases (XXL-Chairman's Choice, HHC- Single of the Month, URB-Next 100 2005), the table is set for Giant Panda to serve their full-length platter.  A cohesive 16-song journey, "Fly School Reunion" is Hip-Hop the way it is supposed to be done.  

(Taken from one sheet)
Artist: Giant Panda
Title: Fly School Reunion
Cat#: TRLP-001
Format: Double 12" Vinyl
Condition: New

Track List

Side A
1. Rap Attack Intro (prod. Chikaramanga)
2. One Time (prod. Newman)
3. With It (prod. Chikaramanga)
4. Superfly (prod. Thes One)
5. Just Cause (prod. Newman)

Side B
1. Diggin In The Tapes (prod. Sir Kado)
2. 90's (prod. Newman) 90's Outro (prod. Thes One)
3. Sho' Improve (prod. Ben Gebhardt)

Side C
1. Chops (prod. Newman)
2. Grand Prix (prod. Chikaramanga)
3. Always Dope (prod. Newman)
4. 3rd Party (prod. Thes One)

Side D
1. Racisit (prod. Newman)
2. TKO (prod. Chikaramanga)
3. Strings (prod. Chikaramanga)
4. Classic Rock (prod. Ben Gebhardt)