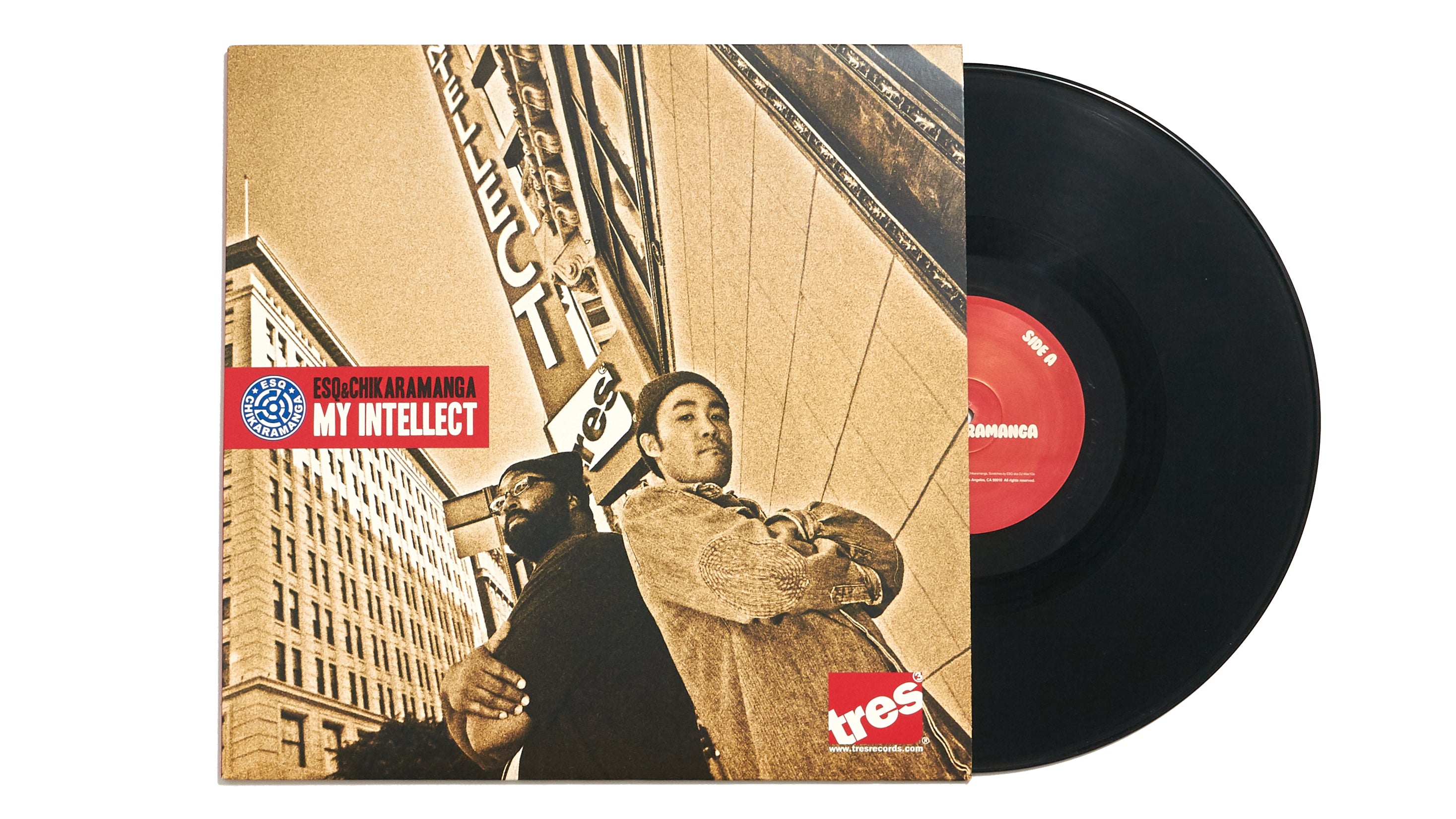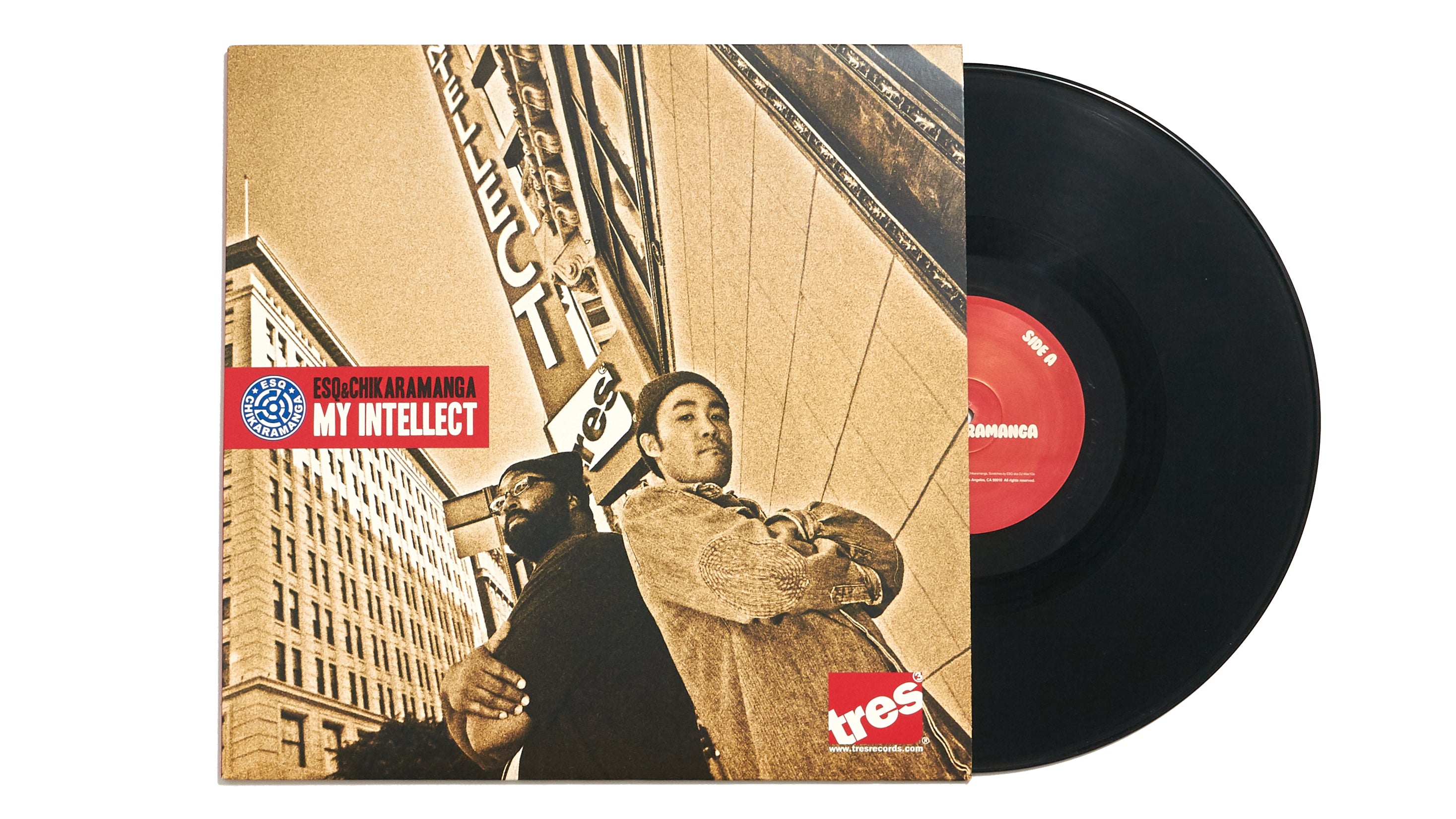 ESQ & Chikaramanga "My Intellect" (12")
"My Intellect," the first single off of E.S.Q. and Chikaramanga's album "The Succession," shows the well blended chemistry of the two artists and lets the masses know that they are ready to make some noise.  The single contains heavy string loops and drums provided by Chikaramanga, laced with the quick/buttery flow of E.S.Q., giving the track an overall feeling of the 90's hip hop we all grew up to and love. The B Side contains two more tracks, which really balances the entire 12" out.  "Coast to Coast," smoothens the intensity of the record, allowing listeners to vibe out to the calm beat and lyrics to match. The final track off the 12" is "All City," which brings the energy back up with a funky groove that'll make anyone's head bob up, down, left, and right. The "My Intellect" 12" is definitely a bold statement made by the two, and they are more than ready to back it up when the people starting wanting some more.
E.S.Q., originally from the East Coast, now residing in the West, is an MC that is always on the move, both in the aspect of his music, to his lifestyle.  One week he may be living in Chicago, IL, and the next you might find him in Berkeley, CA. But no matter where he's at, you'll be guaranteed to find him selling his latest album and making moves to release his next.  During his stay in Los Angeles, E.S.Q. gained support from artists such as the Legendary Percee P, Planet Asia, and Large Pro. His presence on the microphone was soon to be discovered by Chikaramanga through TRES label mate, Paten Locke, and the two have been recording ever since then.  
Chikaramanga, of Giant Panda, has been pushing his music to the next step. After having album releases and worldwide tours with Giant Panda, he has currently been releasing 45's which contain emcees such as Big Tone, Droop Capone, and now Co$$, rapping over his beats.  Since 1996, Chikara has been chopping samples and tracking out drums. Even in today's heavily computerized scene, he sticks with his SP-12, MPC60, and S3000. With all the beats that he is able to produce while running the day to day operations for an independent label, one can only wonder how his typical day goes.  
(Take from one sheet)
Artist: ESQ & Chikaramanga
Title: My Intellect
Cat#: TR396-068
UPC Bar Code: 181057000455
Format: 12" Vinyl
Condition: New
Track List
Side A
My Intellect

My Intellect – Instrumental

My Intellect – Acappella
Side B
Coast To Coast feat. C Money Bags

Coast To Coast – Instrumental

All City

All City – Instrumental
My Intellect (S. Walker, C. Kurahashi)
Written by ESQ
Produced by Chikaramanga
Scratches By ESQ aka DJ Wax1Da
Coast To Coast (S. Walker, C. Moses, C. Kurahashi)
Written by ESQ and C Money Bags
Produced by Chikaramanga
All City (S. Walker, C. Kurahashi)
Written by ESQ
Produced by Chikaramanga
Recorded and Mixed By Chikaramanga at Chikara Kurahashi's Hit Station (Los Angeles, CA)
Photos by Sei
Artwork by Sausen